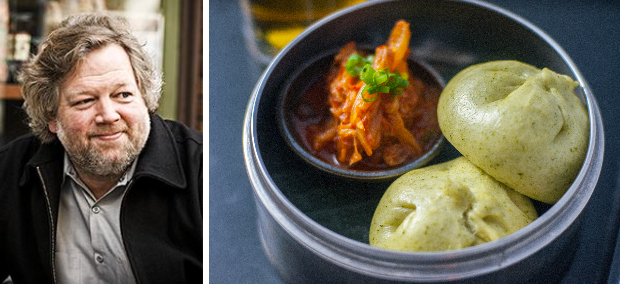 | | |
| --- | --- |
| Photo credit: Ed Anderson | Green Healthy Baos at TanakaSan |
A Note From Tom
Forty years ago, I discovered dim sum, and instantly my love affair with dumplings was in full bloom. In the late mornings, before we had to work our dinner shifts on Capitol Hill, I would gather with my posse in Chinatown. We would pile into the cramped King Street Café and in less than a minute have steaming har gow (shrimp dumpling), siu mai (pork and shrimp dumpling) xiao long bao (soup dumpling) and baked honey glazed BBQ pork hum bao. Ice cold Tsingtao beers and pots of hot black tea would be next. Even the spicy black bean chili paste was a revelation in taste and importance to complete the dumpling experience.

From there, every time I heard the word dumpling, no matter where on earth they originated from, I had to order them. I still miss the outrageously delicious Czechoslovakian bread dumplings covered in thick caraway gravy made from pork drippings (yum!) from the old Labuznik restaurant on First and Virginia.
If you are as crazy about dumplings as I am you will not want to miss our first annual "Dumpling Fest" happening at the Palace Ballroom on Feb 26th. There will be over 15 different dumpling makers serving their delicate treasures throughout the room - plus a raffle featuring a grand prize trip to the Dumpling Trail up in Richmond B.C.

I am very proud of our new line of mustards that debuted at the San Francisco Fancy Food show last week! Just going to warn you that the Spicy Chili Mustard is SPICY! I love the NW Porter Mustard with our Bravehorse pretzels, and the Toasted Shallot Mustard makes a great sandwich spread or use as base for a snappy vinaigrette. You'll be able to find them at your local grocery soon!

Cheers,
Tom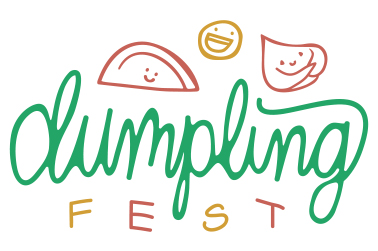 First Annual Dumpling Fest at Palace Ballroom
DATE: Sunday, February 26th
TIME: 1:00pm - 4:00pm
LOCATION: Palace Ballroom
COST: $35 per person
(includes tax and service charge)

Nearly every culture on the planet has inexplicably agreed that taking small pieces of dough and stuffing them with ingredients is a good idea. Yet from this very simple definition springs a myriad of culinary traditions that are as staggering in their diversity as the chefs that prepare them. This February, Tom Douglas' Palace Ballroom will be hosting the first annual Dumpling Fest, complete with bites, brews (of all kinds) and bumpin' music! And, like the dumplings, we can guarantee everyone will walk away a little stuffed.
---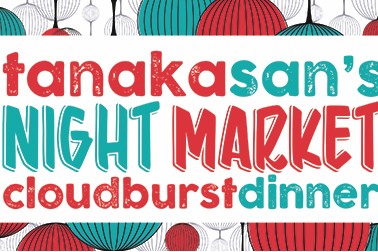 TanakaSan's Night Market Dinner with Cloudburst Brewery
DATE: Wednesday, February 8th
TIME: 6:30PM
LOCATION: TanakaSan
COST: $65 per person
(includes tax and service charge)

Lanterns swinging, lights glowing, music bumpin', dumplings boiling and beer flowing – this is TanakaSan's Night Market Dinner with our friends at Cloudburst Brewing! Join us for an epic feast featuring TanakaSan's Chef, Melissa Martz, and her most popular menu items with a few new specials and surprises along the way. Each dish will be paired with the show-stopping brews from Seattle's Cloudburst Brewing team – they too will bring a combination of crowd favorites and undiscovered newbies.
---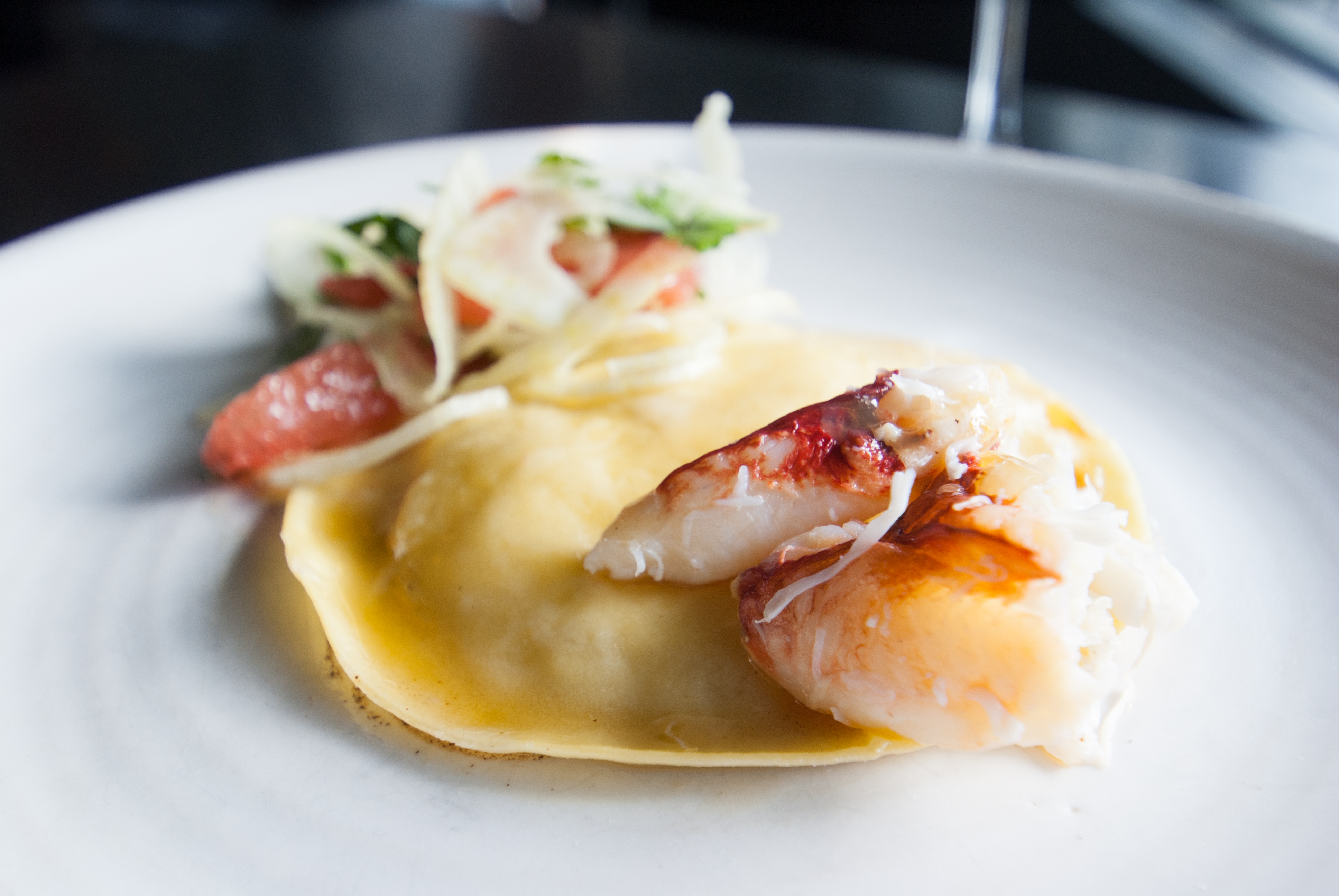 Celebrate Valentine's Day with us!
Join us for Valentine's Day events and specials at all Tom Douglas Restaurants!

Make your reservations, snag your sweetheart and enjoy a night on the town with delicious food from our gracious team.

Looking to do something a bit different this year? Check out some fun Valentine's Day themed classes at Hot Stove Society – learn how to make a romantic dinner for two, create the perfect wine pairing, and more!
---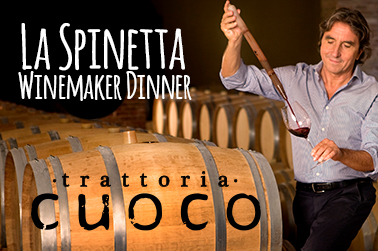 La Spinetta Winemaker Dinner at Cuoco
DATE: Tuesday, February 21, 2017
TIME: 6:00pm
LOCATION: Trattoria Cuoco
COST: $90
(includes tax and service charge)

The genius of La Spinetta starts with the incredible range of great wines (and spirits), all boasting an approachable, yet opulent style. From all of us at Tom Douglas Restaurants, we are honored to welcome the highly acclaimed winemaker, Giorgio Rivetti, and his beautiful wines at our Trattoria Cuoco on Tuesday, February 21st, for a special winemaker dinner that should not be missed!
---
Make Room for Mustard!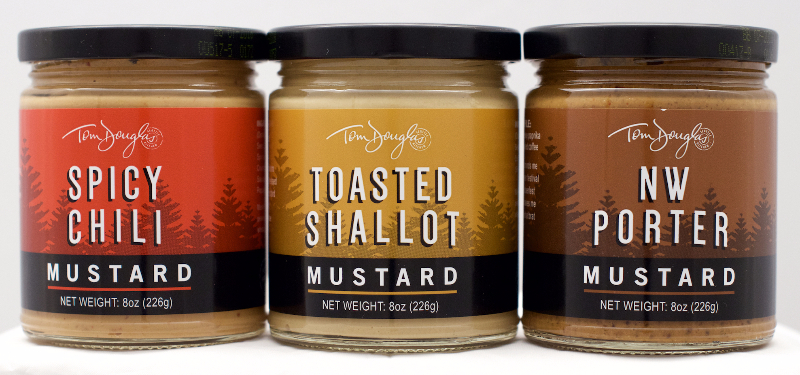 We are excited to announce a new addition to our portfolio of products, the Tom Douglas Seattle Kitchen mustards! Mustards, similar to our Rub with Love spice rubs and sauces, have become a "must-have" ingredient in home kitchens around the country and within our Seattle restaurants. Whether you're flavoring sauces or dressings, adding some punch to the perfect sandwich, or enjoying it straight out of the jar, mustards have many varied applications and are easy to use.

Each product, including our mustards, are made in the Pacific Northwest and crafted in small batches to ensure freshness and quality. Make room on your shelves for our three unique mustard flavors: Spicy Chili, Toasted Shallot, and NW Porter.